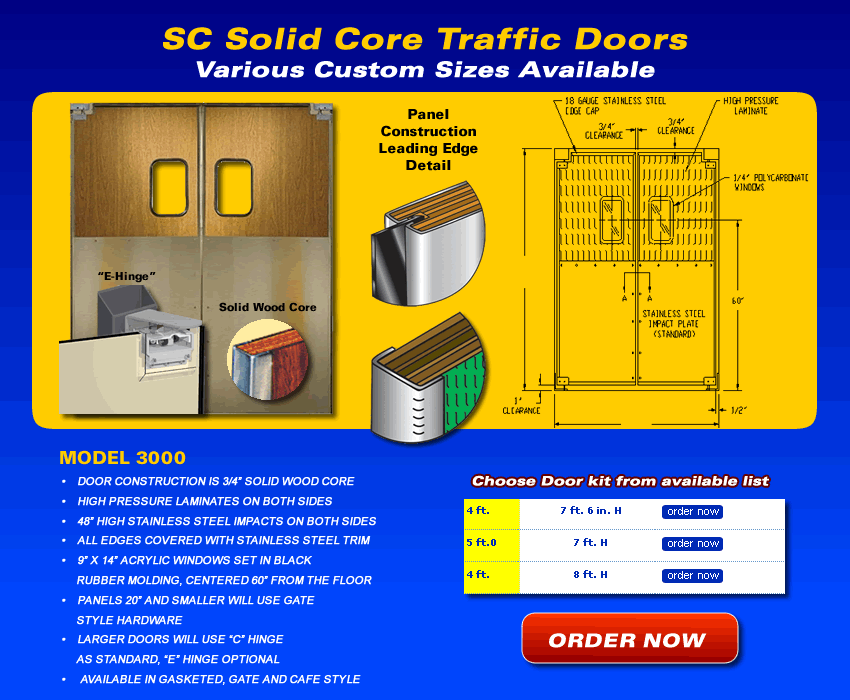 SC Solid Core Traffic Swing Doors

Online Order
SPECIFY LAMINATE COLOR ON MODEL 3002.
Doors with high pressure laminates are priced based on using STANDARD GRADE LAMINATE. Contact factory if customer requests pricing on a specific laminate, or calls for a PREMIUM LAMINATE.
DOORS 20" AND SMALLER WILL USE GATE STYLE HARDWARE. LARGER DOORS WILL USE GRAVITY OPERATED "C" HINGE AS STANDARD
INSTALLATION DETAILS
Jambs must be plumb and square. Minimum double 2" x 4" wood construction or equivalent. Hollow metal jambs should be reinforced at hinge locations. Mounting screws supplied for metal jambs unless wood jambs are specified.
Model 3000
Door construction is 3/4" thick solid wood core with high pressure laminate on both sides
All edges are covered with stainless steel edge trim
48" high stainless steel impact plates on both sides
9" x 14" acrylic windows set in black rubber molding, centered 60" from the floor
Complete with gravity operated hinges
Door Width

Door Height

Gauge

Panel Type

Price
per Kit

0.75

Single Panel

$ 614.82




SWDRSOLIDCT-20019

0.75

Single Panel

$ 684.37




SWDRSOLIDCT-20020

0.75

Single Panel

$ 724.71




SWDRSOLIDCT-20021

0.75

Single Panel

$ 792.87




SWDRSOLIDCT-20022

0.75

Single Panel

$ 826.25




SWDRSOLIDCT-20023

0.75

Single Panel

$ 881.89




SWDRSOLIDCT-20024

0.75

Single Panel

$ 905.54




SWDRSOLIDCT-20025

0.75

Single Panel

$ 925.02




SWDRSOLIDCT-20026

0.75

Single Panel

$ 979.26




SWDRSOLIDCT-20027

0.75

Biparting

$ 1,228.25




SWDRSOLIDCT-20010

0.75

Biparting

$ 1,368.74




SWDRSOLIDCT-20011

0.75

Biparting

$ 1,450.81




SWDRSOLIDCT-20012

0.75

Biparting

$ 1,584.35




SWDRSOLIDCT-20013

0.75

Biparting

$ 1,655.29




SWDRSOLIDCT-20014

0.75

Biparting

$ 1,765.18




SWDRSOLIDCT-20015

0.75

Biparting

$ 1,811.08




SWDRSOLIDCT-20016

0.75

Biparting

$ 1,850.03




SWDRSOLIDCT-20017

0.75

Biparting

$ 1,955.75




SWDRSOLIDCT-20018

0.75

Single Panel

$ 646.82




SWDRSOLIDCT-20037

0.75

Single Panel

$ 735.84




SWDRSOLIDCT-20038

0.75

Single Panel

$ 776.18




SWDRSOLIDCT-20039

0.75

Single Panel

$ 841.56




SWDRSOLIDCT-20040

0.75

Single Panel

$ 874.94




SWDRSOLIDCT-20041

0.75

Single Panel

$ 931.97




SWDRSOLIDCT-20042

0.75

Single Panel

$ 957.01




SWDRSOLIDCT-20043

0.75

Single Panel

$ 972.31




SWDRSOLIDCT-20044

0.75

Single Panel

$ 1,025.17




SWDRSOLIDCT-20045

0.75

Biparting

$ 1,290.85




SWDRSOLIDCT-20028

0.75

Biparting

$ 1,432.73




SWDRSOLIDCT-20029

0.75

Biparting

$ 1,514.80




SWDRSOLIDCT-20030

0.75

Biparting

$ 1,644.16




SWDRSOLIDCT-20031

0.75

Biparting

$ 1,713.71




SWDRSOLIDCT-20032

0.75

Biparting

$ 1,826.38




SWDRSOLIDCT-20033

0.75

Biparting

$ 1,875.07




SWDRSOLIDCT-20034

0.75

Biparting

$ 1,907.06




SWDRSOLIDCT-20035

0.75

Biparting

$ 2,012.78




SWDRSOLIDCT-20036

0.75

Single Panel

$ 676.03




SWDRSOLIDCT-20055

0.75

Single Panel

$ 765.05




SWDRSOLIDCT-20056

0.75

Single Panel

$ 805.39




SWDRSOLIDCT-20057

0.75

Single Panel

$ 866.59




SWDRSOLIDCT-20058

0.75

Single Panel

$ 890.24




SWDRSOLIDCT-20059

0.75

Single Panel

$ 951.44




SWDRSOLIDCT-20060

0.75

Single Panel

$ 973.70




SWDRSOLIDCT-20061

0.75

Single Panel

$ 997.35




SWDRSOLIDCT-20062

0.75

Single Panel

$ 1,048.81




SWDRSOLIDCT-20063

0.75

Biparting

$ 1,353.44




SWDRSOLIDCT-20046

0.75

Biparting

$ 1,496.72




SWDRSOLIDCT-20047

0.75

Biparting

$ 1,578.79




SWDRSOLIDCT-20048

0.75

Biparting

$ 1,701.19




SWDRSOLIDCT-20049

0.75

Biparting

$ 1,770.74




SWDRSOLIDCT-20050

0.75

Biparting

$ 1,887.59




SWDRSOLIDCT-20051

0.75

Biparting

$ 1,937.66




SWDRSOLIDCT-20052

0.75

Biparting

$ 1,964.09




SWDRSOLIDCT-20053

0.75

Biparting

$ 2,069.81




SWDRSOLIDCT-20054