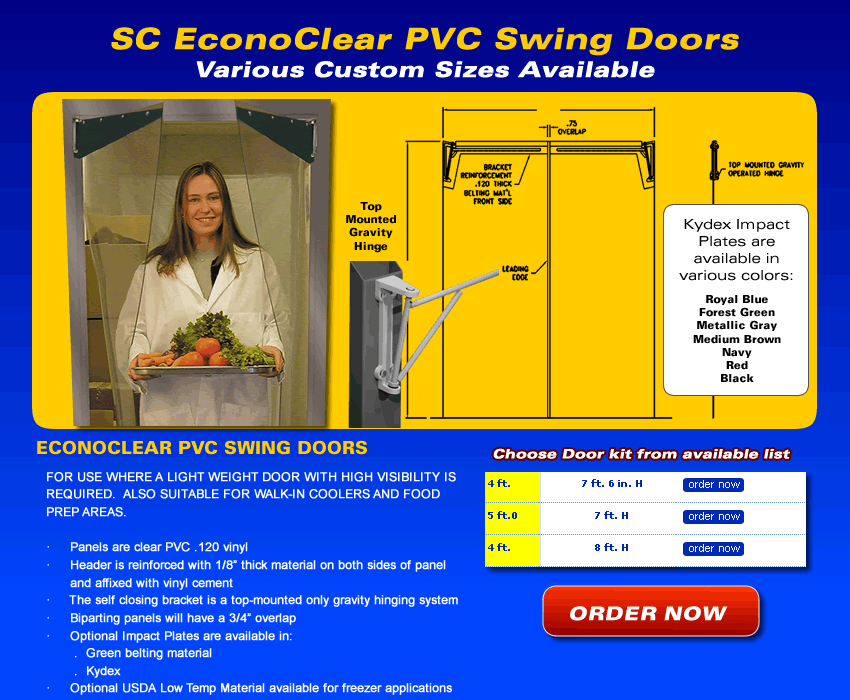 PRODUCT DESIGNS ARE SUBJECT TO MODIFICATIONS AND IMPROVEMENTS
USDA Low Temp Material

- Add 10% to Price of Door Kit

For freezer applications Not to be used for Blast Freezers.
Kydex Impact Plates

- $12 / sq. ft.

Specify height up to 12" high. Price includes both sides of panel.

Available colors:

Forest Green, Navy, Metallic Gray, Medium Brown, Red, Royal Blue, Chocolate Brown, Black
Green Belting Material

- $22 / sq. ft.

Also used in Freezer applications.
Door Width

Door Height

Gauge

Panel Type

Price
per Kit

0.12

Single Panel

$ 293.50




SWDRECONOCL-20010

0.12

Single Panel

$ 331.06




SWDRECONOCL-20012

0.12

Single Panel

$ 314.37




SWDRECONOCL-20011

0.12

Single Panel

$ 346.36




SWDRECONOCL-20013

0.12

Biparting

$ 511.89




SWDRECONOCL-20014

0.12

Biparting

$ 587.00




SWDRECONOCL-20015

0.12

Biparting

$ 628.73




SWDRECONOCL-20016

0.12

Biparting

$ 639.86




SWDRECONOCL-20017

0.12

Biparting

$ 548.05




SWDRECONOCL-20018

0.12

Biparting

$ 613.43




SWDRECONOCL-20019

0.12

Biparting

$ 660.73




SWDRECONOCL-20020

0.12

Biparting

$ 709.41




SWDRECONOCL-20021