Aluminum Low Profile Flat Bar - Pre Drilled for loop strips
Enter hardware length (feet)
Aluminum Low Profile Flat Bar - Pre Drilled for loop strips
Notes:
The total number of hardware lengths can be adjusted in the shopping cart.
Orders under $100 are subject to a minimum of $24 UPS delivery charge. Additional marginal shipping charges apply to orders above $100.00

Maximum length of hardware available for UPS shipping is 10'

Hardware lengths are shipped as one piece unless otherwise specified....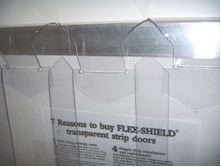 1.25" Aluminum Flat Bar is common for smaller strip kits in cooler/freezer environments. The flat profile of the Aluminum allow easy cleaning and maintenance and quick install and replacement.